If you're like me you love the outdoors.  I prefer to be out in the woods a fair amount whenever possible.  I've found one of the most enjoyable ways to appreciate the wilds of nature also joins in with a couple of my other favorite past times, boating and photography.  Believe it or not, these activities mesh extremely well together.  As I spend a fair amount of time on my hobby of wildlife photography, I decided to try it with my love of getting out in my kayak or canoe and splash around.  The results were quite impressive as I quickly discovered the wildlife treats you very differently in a boat as opposed to how they react when you're walking.  I was able to get quite close on numerous occassions and got some exquisite shots.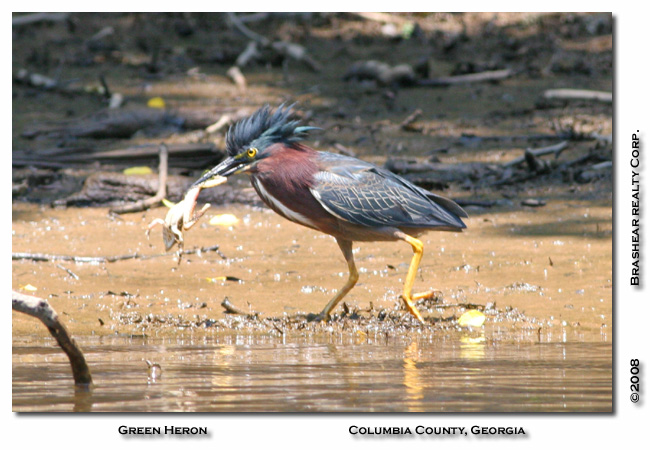 Green Heron catching his lunch on Betty's Branch
So, if you're like me and are looking for a way to get some good wildlife shots, or get away into nature, or just plain love to go boating, I figured I'd put up a few posts about some of the places I like to take my boats for a day of fun on the water.
I'll cover one of the more well known spots in Augusta for this today and move on to some of the less popular places in subsequent posts. 
Betty's Branch:
The Betty's Branch run is in essence the circumnavigation of German Island in the Savannah River.  There is plenty of wildlife and scenery and it's an easy afternoon paddle.  For most people the entire trip shouldn't take more than four hours.
The embarkation/debarkation point is at the back of Riverside park behind Riverside Elementary.  There is a concrete boat ramp here so you'll see a few folks with john boats and even power boats put in here as there is direct access to the river.  No need to worry though as there aren't that many and those that are present are always very conscious of those using smaller non powered boats.  This point is a backwater and you'll often see large wading birds in this area such as the Blue Heron and Great Egret.
Betty's Branch is an easy paddle that is enjoyable for the novice and veteran alike.  It has no rapids and is pure flat water paddling throughout.  However, it is close in to town and offers very scenic views and a quiet easy going paddle.  The current isn't too strong most days but can offer a moderate workout if you really want to push it.  
I established a couple of points of interest on the map above:
Point A is the train trestle as it passes over the branch.  You can frequently see Osprey here as there is a nest on one of the support beams.  If you can't find them in the nest they are often nearby and you can sometimes see them hunting for fish in the branch.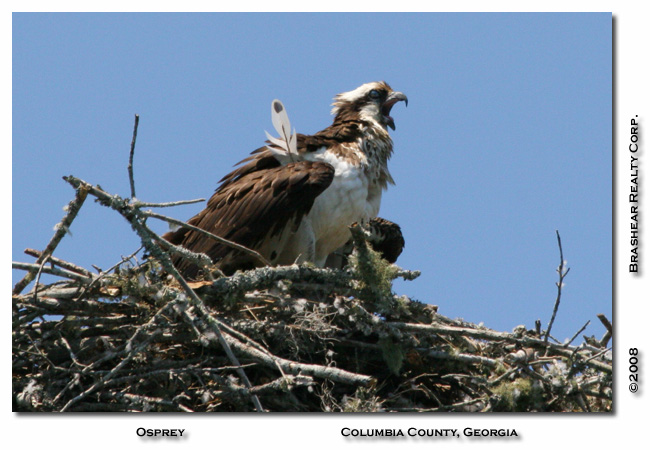 Point B is where a large pond from a residential area backs into the branch.  There is a small rock "dam" that is present here right at the water line.  On high water days, you can take a kayak or canoe over it into the pond.  Just be wary of it as it is often right at the water line.  This is also one of the better fishing spots if you're looking for bluegill.  I've seen quite a few here as well as their beds during spawning season.  There is also a rope swing here for the more adventurous.     
Point C is Champions Retreat Golf course.  It's absolutely beautiful from the water and there is a small brighe here for the golf carts to cross the branch.  By this point there are usually very few other boaters around as most don't travel this far up the branch.  I see Belted Kingfishers in this area quite often.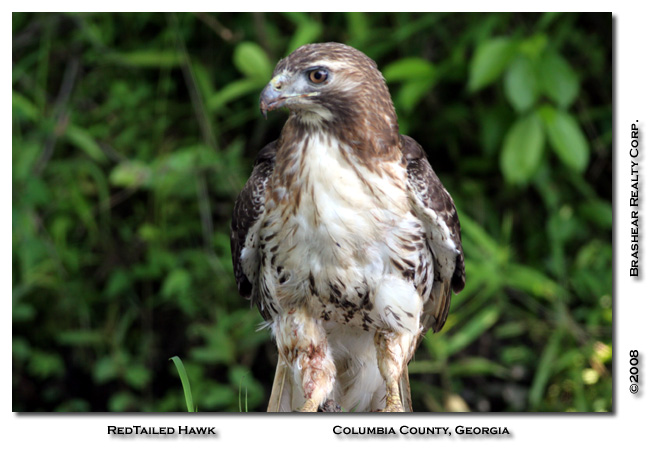 Point D is of course the Savannah River.  It's gorgeous at this point of the river although the River is quite wide here and on windy days it can make the water a little choppy.  You'll also have to be wary of river traffic as it moves at a much more brisk pace than on the branch.  If you travel Northwest from the embarkation point when you make the turn at the river you'll be travelling downstream and it makes for a pleasant and easy paddle.
So if you get the chance, take a ride out to Riverside Park and put your boat in.  I think you'll agree it was worth it.  For some reviews on this paddle check out this review on paddling.net.