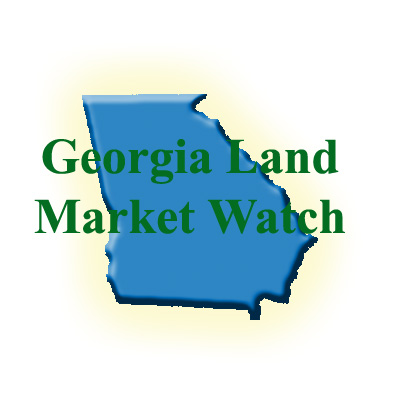 We here at Georgia Country Blog are a blog about land and land ownership.  We are owners, buyers and sellers of land.  We love land.  We love to talk about land, but we also make our living in the land business.  So, periodically it's worth discussing the state of the land market for our readers who may happen to own land they want to sell, or for those who want or are considering purchasing land for sale in Georgia.  (If you have an interest in buying land in Georgia or selling land in Georgia you can also visit our company website.)
I plan to make this a recurring feature on this blog.  Checking the numbers roughly once a quarter.  The basic information will be interesting in its own right, but watching how these numbers change over time will give us a great feeling on trends in the market.
All of the information here is compiled from the Greater Augusta Association of Realtors MLS.  It covers a good portion of east central Georgia, including Richmond, Columbia, Lincoln, Wilkes, McDuffie, Warren, Glascock, Jefferson and Burke Counties among others.
There are currently 382 active listings of land for sale in Georgia that are larger than 5 acres in the GAAR MLS.  Lets take a look at some of the breakdown on the data from November 1, 2010 to May 1, 2011.  That represents roughly the last six months of activity in our market area.
 
Active Land Listings (5 Acres or Larger)
 
 
 
 
Total
Median List Price
Median Price/Acre
Median Days on Market
382
103,544
5,073.50
383.5
This data above gives you the basics on the data.  There are a total of 382 active land listings of greater than 5 acres in the market currently.  The median list price is $103,544 with a median price per acre of a little over $5,000 with a median days on market of a little over a year.  (I used the median value as opposed to the average to avoid misleading data caused by a few egregious outliers.)  The one primary thing of note here is the median days on market.  It is currently taking over a year to sell tracts of land in this market.  Even more interesting is when you compare this number to the median price per acre.  Given the length of time it is currently taking to sell acreage tracts you would expect to see this number considerably lower than over $5,000/acre.  It will be interesting to see how these numbers change relationally in future land market watch reports.  Of course, that median price per acre is skewed somewhat by tracts in Richmond and Columbia counties that some people assign commercial or development potential to.  Regardless, the number is higher than I would have anticipated.
 
Closed Land Listings (5 Acres or Larger)
 
 
 
 
 
 
 
 
Total
Median List Price
Median Sell Price
Median Price/Acre
Percent of Sell to List
Median Days on Market
32
$58,963
$56,224
$3,290.5
90.78%
143.5
(Yes, I know the median list price divided by the median sell price is not 90.78% but that is due to using medians and not raw data.  The raw data does deliver a 90.78% result.)
In the last six months a total of 32 tracts have closed.  This is roughly equivalent to 8.4% of the total current inventory.  The median price per acre of the sold tracts is $3,290 which indicates we have a disparity on what the public is willing to pay vs. what sellers are willing to accept.  When you compare the median price here vs. the median price of the actives we have a sizable difference.  Even considering a 10% reduction for percent of sell to list  we see a difference of roughly $4,600 to $3,300 price per acre.  This probably helps explain the smallish roughly 8% turnover margin in the last six months.  Two other points of note are the median days on market and the median list and sell prices.  You can readily see that the tracts that are moving in this market are moving inside of six months and are priced much more modestly than the median asking price of those tracts currentl;y available for sale.  When you factor in the median list and median sell prices, it makes clear that the consuming public right now is interested in smaller tracts and cheaper prices.  (Which really isn't news to anyone, I don't think.)
Let's take a deeper look at the numbers and see what further information may be lurking.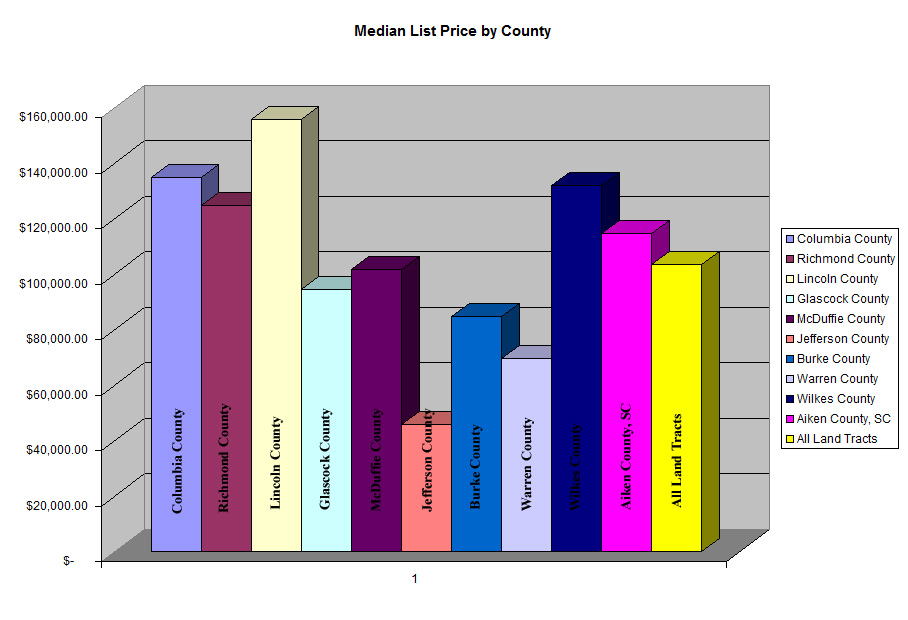 The above chart shows the median list price by county.  The far right value of "All Land Tracts" shows the median list price of all 382 tracts in the system as a point of reference.  Not surprisingly it shows Columbia and Richmond County (The two most urban counties) as having among the highest list prices.  Somewhat surprisingly, Lincoln and Wilkes County are also are quite high.  Lincoln County is undoubtedly due to its proximity to the lake and perceived value of lake front property.  Wilkes County is high largely due to a very small sample size of only 6 properties which skews the data set for this county.  Glascock County  and Jefferson County, based on their rural settings have surprisingly high and low median list price values respectively.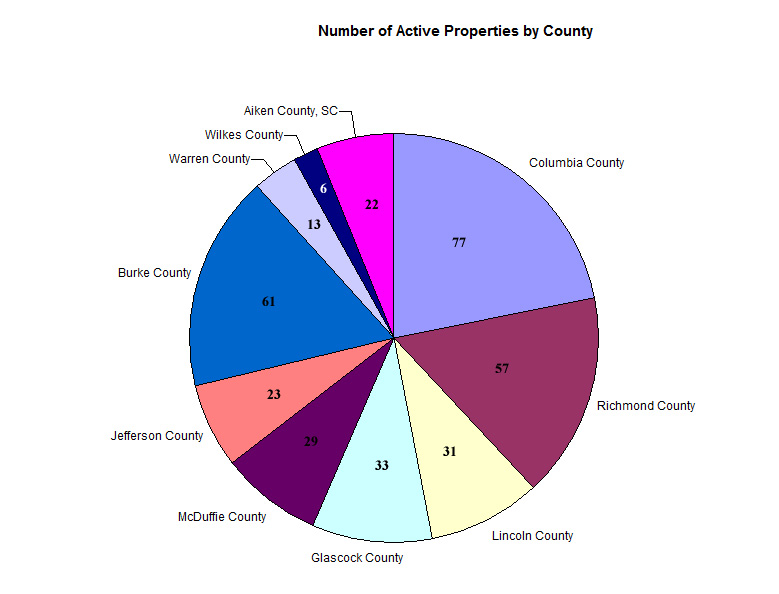 As you can see from this pie chart, you can get a good idea of where property is currently listed.  It is easy to see why Wilkes County is an outlier in the median list price value based on its very small sample size.  It does emphasize that price values in Lincoln County are among the highest in the area outside of Augusta and its suburbs and that Jefferson County seems (at first glance) to be among the better priced areas in our service area.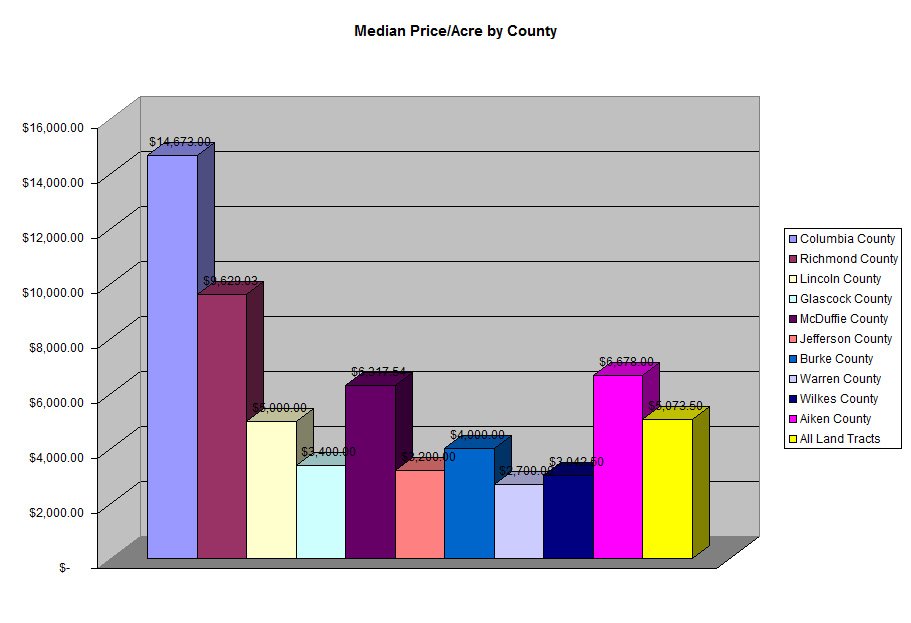 This chart, though, when combined with the previous charts, shows you where the rubber meets the road.  The other charts show you what median list prices are in given counties and how much availability there may be in some areas, but it lacks the definition to describe what values you may really expect.  They can be skewed based on they sizes and types of property currently listed.  This chart gives you a good overview of what prices per acre one can expect to pay.  As one would expect Columbia County is off the charts in comparison with the other counties.  Richmond is also well above its peers at over $9,600 per acre.  Aiken and McDuffie Counties, as the other two counties with a moderate sized city in them also have higher values though they are not nearly as high as the previous two mentioned.  Lincoln County does show that its land values are still holding quite high due to its proximity to the lake and the suburbs of Columbia County.  The remaining counties are far closer to what one might expect to pay for quality hunting, fishing and recreation land in this region, ranging from $2,700 to $4,000 per acre.  This chart also demonstrates how statistics can be misleading.  When glancing at the median price per acre of all the land tracts available, nearly $5,100 per acre is enough to give one a little sticker shock.  When looking at the counties that are predominantly recreational land, the value falls at least 20% or more depending on where you may be looking.  Jefferson County reveals that it may not be quite the deal that previous two charts make it appear.  While it's median list price and number of properties suggest that it is the cheapest of all counties in the area, this chart shows that on a price per acre basis it is not.  This suggests a larger number of smaller tracts are available in Jefferson County currently.  Still, clearly for recreational and hunting tracts, Warren, Wilkes, Jefferson and Glascock Counties appear to hold the best values.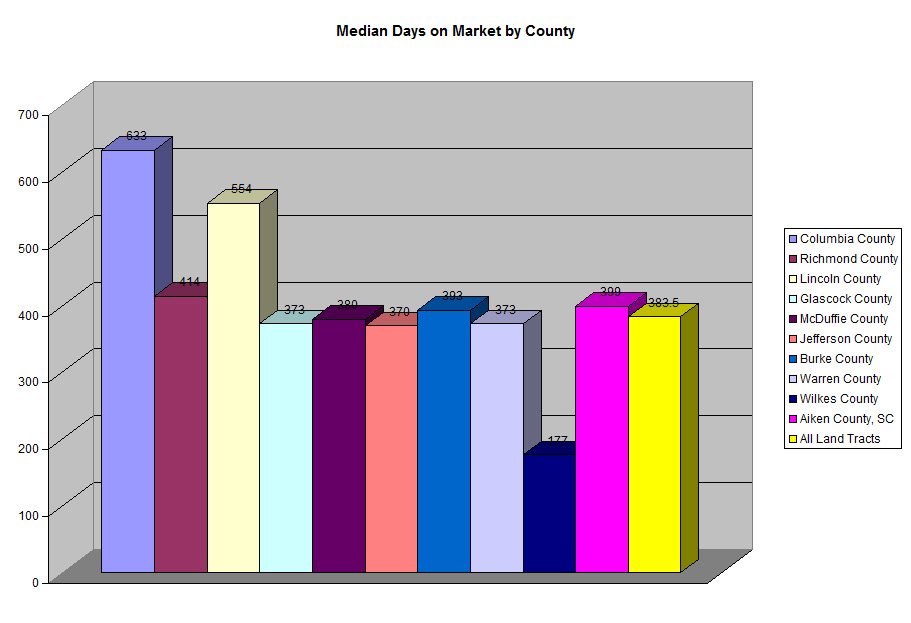 We have already established that overall properties are staying on the market for a little over one year.  Are there any counties in our area which are outperforming or under performing those median values?  Again, bear in mind that the far right column is the median value for all tracts in the system 5 acres or larger.  This chart indicates that Columbia County is far outpacing the others in the system.  This is not a huge surprise considering it's much higher median price per acre.  Nonetheless, if the property were worth that considerably much more than surrounding counties, it should fall close in line to the remaining counties.  This chart clearly suggests that property in Columbia and Lincoln Counties are sitting longer on the market.  As these are among the two highest priced per acre counties, this would also suggest that owners here are out-pricing the market currently.  Wilkes County again appears as an outlier with only 177 days on market, but again I view this as a sampling size issue and not representative of some greater trend or meaning.  The rest of the counties are all sitting right around 380 days almost across the board.
Now we have gotten a reasonable picture of the overall market and of data based on a county by county analysis.  Another important aspect to bear in mind when looking at land for sale, is pricing, distribution and days on market based on size.  Land like all other things works in economies for sale.  In other words, the more you buy, the less you pay per unit.  lets look at some of the statistics based on the size of the tracts.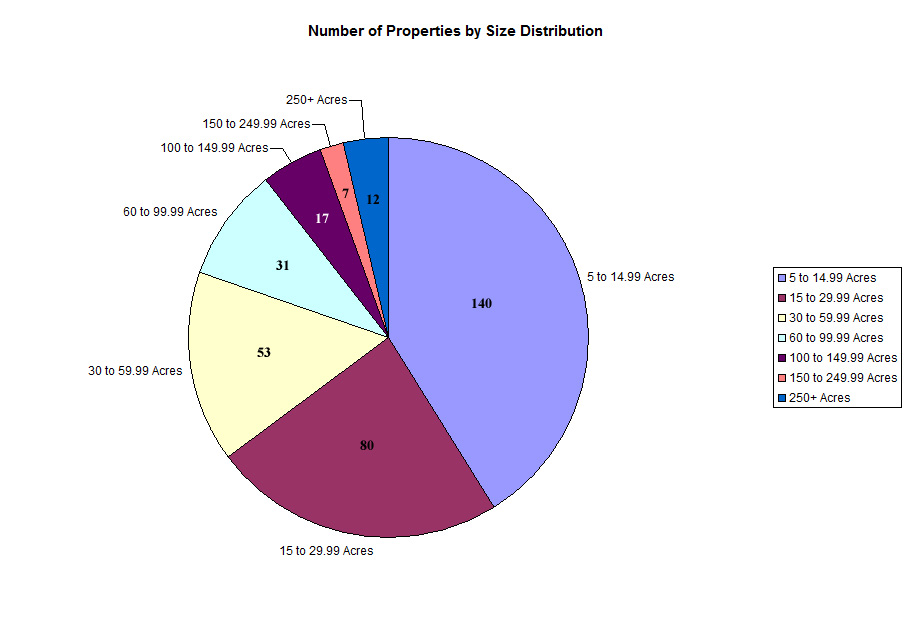 This pie chart shows the distribution on the tracts currently available based on size.  As you can see the vast majority of properties in the system currently for sale reside in the under 30 acre categories.  Smaller tracts tend to have a much higher turnover rate than larger ones, and there are considerably more of them so this is to be expected.  It does show that there is a relative dearth of larger tracts currently on the market right now as there are only 36 tracts of 100 plus acres currently listed in the GAAR MLS.  On the other hand, in the smaller "mini farm" market we seem to have good numbers of tracts available in the 30 to 100 acre range.  This is a good range for many individual hunters or family hunting tracts.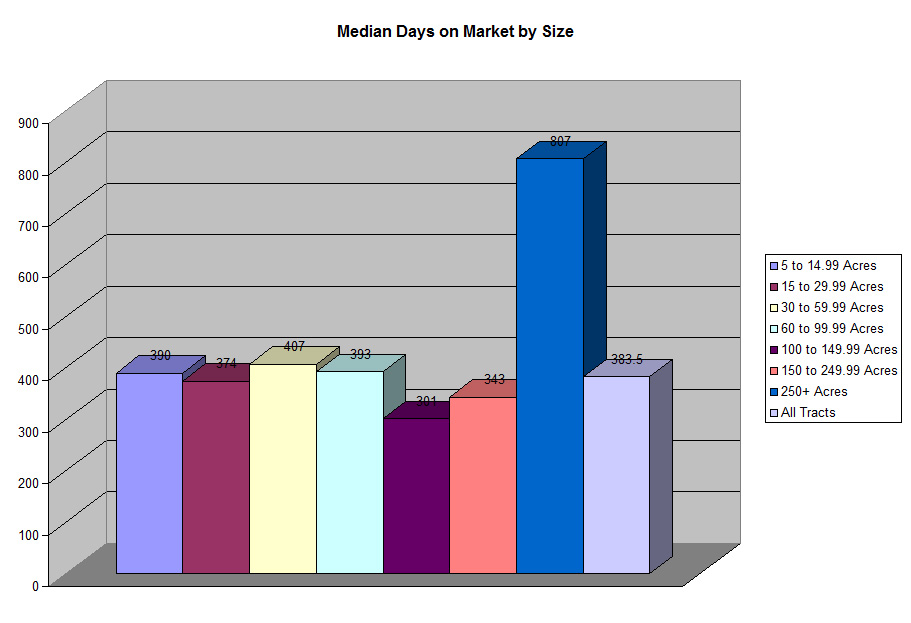 This chart shows the median days on market by size distribution.  It shows a relatively flat line until you get to the over 250 acre range.    Tracts in the 100-150 acre range do seem to fair slightly better than others in our current data set.  It will be interesting to see if this is just an anomaly or if this size range consistently outperforms the other size tracts.  Nonetheless, it is not a huge outlier and this chart indicates that with the exception of the truly large tracts, one can expect roughly a one year turnover time per tract, regardless of size.  Large tracts, as the exception show you that clearly they have a very slow turnover rate.  This also indicates that there may be some softness of the market in that range.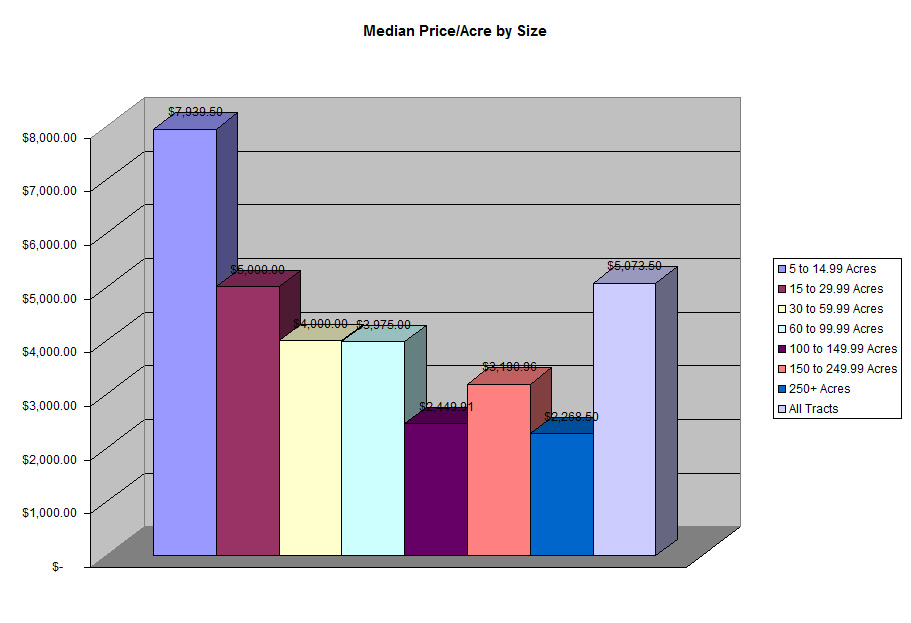 This chart demonstrates the median price per acre by size distribution.  It shows the slope of economies of scale fairly well.  (Remember that the far right column is the median value of all tracts in the system.)  When combined with the above data this should help you develop a decent idea of what you can expect to pay for a property in this area.  You can clearly see that median price per acre drops dramatically from the 5-15 acre range to the 15 to 30 acre range and then slowly tapers down.  two things which did strike me as interesting in looking at this data is the nearly nonexistent price differential in 30 to 100 acres and in the slight rise in price per acre in the 150 to 250 acre range.  I expected a larger drop in the price distribution in the 30 to 60 and 60 to 100 acre ranges.  It may be that we have a very similar buyer set in these two ranges who have similar uses intended for the property, such as recreational hunting.  As such there really may not be a need for two separate categories.  I decided to keep them separate for the time being and we'll see how the data lumps together in future land market reports.  The rise in price per acre in the 150 to 250 acre range was a bit surprising but considering the sample size it probably is merely another example of an outlier based on too small a sample group.  The best value for the average buyer is clearly going to be in the 100 to 150 acre range based on the above data.  It's a price point many can get into and has reasonable prices per acre.
So what do we conclude from the above data about the land for sale in this part of Georgia?  First, I think we can say that based on the days on market and low number of closed transactions in the last 6 months that the land market is slow.  It seems to be slow regardless of county or size or price per acre.  The only area where we are seeing any real activity is in smaller tracts under $60,000.  The statistics indicate that there may be some softness in the market for larger tracts although we are not yet seeing it turn into sales.  This typically means that either there are no buyers in that portion of the market or that the buyers looking in that size and price point are unwilling to meet the demands of the owners.  This happens more frequently in land markets than residential markets as owners of this type of property can often afford to hold out until market conditions improve.
Based on the above data we can also conclude that Columbia and Lincoln Counties look like considerably less of a bargain than the other competing counties in the market right now.  With higher prices and longer periods of time on market they appear to be slumping more than their neighbors.  As they inflated more quickly than their neighbors in the real estate bubble, this quite reasonable to expect a sharper downturn. 
If you're looking to buy land in this area of Georgia right now, the 30 to 150 acre market looks to have the most promise.  Considering the length of days on market and the list to sell percentages, this market looks to be a reasonable place to find a deal right now.  particularly in Warren, Jefferson and Glascock Counties, which have decent inventories and lower prices per acre.
I hope this information is of value to you.  I had a good deal of fun putting it together for you.  As always, please remember that if you looking to buy land for sale in Georgia or looking to sell your land in Georgia, we would love to be of assistance.  You can check out our company website GeorgiaLandSales here.  We have all our listings of Georgia land and South Carolina land for sale there as well as a good deal of other information.  If you're looking to sell your land in Georgia or South Carolina you can find all of our contact information there as well.