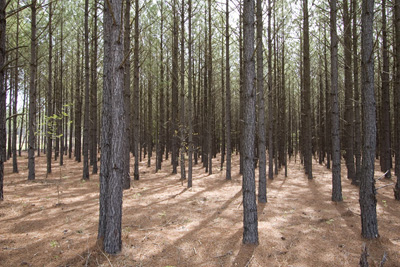 (Planted Pine Timber)  
One of the most frequent questions we, as land and acreage sales experts, get asked is "how is the timber market"?  Or "what is the value of my timber"?  Now, in previous articles, and further ones to come, we have been discussing how to do an estimation of your timber.  That answers part of the two prevalent questions, however it doesn't determine the answer to the other.
The most honest answer to timber market prices is largely, it depends.  It can depend on any number of factors.  It can depend on the type of trees being cut, their age and their size.  Each subtype of timber from pine saw timber to hardwood pulp has a different fluctuating market.  So where does one get an accurate idea of what timber prices are?  Well, the answer is not easy.  Your region can drastically effect what price is being paid for your timber as well.  What one is getting paid for pine pulpwood in Tifton, GA is not necessarily the same as what one may get in Dalton, GA.
If you're just looking for some general idea of what the market is doing without needing specific data for your area this link to a page on Timber Mart-South is an excellent resource to show you what timber prices are doing with a southwide average.  It's good for giving you a rough idea of what subtypes are strong and which are weaker and their general trends.  If you're looking for more specific data you can find quarterly reports based on regions of Georgia.  The most recent, in pdf format, is linked here.  While more recent data may be available most of it would be the type one pays for.  As a general rule that may not be necessary if you're looking for data for a onetime cut.
Hopefully these links may give you a couple of better resources for getting a feel for timber prices in Georgia.  Right now all signs seem to point towards sawtimber falling and continuing to fall for a little while yet.  Pulpwood, particularly pine pulpwood, while down from 10 years ago, is holding steady and in some areas rising.  Part of this is no doubt due to the lack of new developments being built by builders.  As they cut back on building efforts saw timber will decline in value due to lower demand.  The pulpwood will be a stronger market as many mills will trend more towards a product designed for paper as opposed to lumber.
If you're looking for more information on timber cruising you can view our articles on it here, here and here.  You can also visit the Georgia Forestry Commission website.  They do provide an excellent searchable database here that contains a great number of consulting foresters who can be sorted by their work area and fields of expertise.  They have some good pointers and resources for you as well.