Most poisonous species of snakes in our area of Georgia fall into the category of Pit Vipers.  This category includes Rattlesnakes, Cottonmouths (Moccasins), and Copperheads.  The only poisonous snake in our area that does not fall into this list is the Coral Snake, which is extremely rare here, but found more often in Georgia's coastal plain.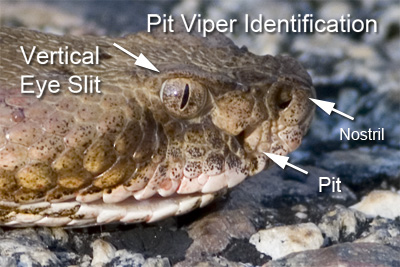 Many non venomous snakes fall victim to misidentification with poisonous species, or worse, they fall prey to the attitude that, being difficult to identify, the only good snake is a dead snake.
All Pit Vipers can be identified by two characteristic features.  They have eye slits rather than round eyes.  Like humans almost all non-poisonous snakes have round irises.  Like cats, Pit Vipers have vertically slit eyes.  Pit Vipers also have a pit which is used as a heat sensing organ for hunting prey at night.  This is in addition to its nostrils as depicted in the picture above.
Pit Vipers can also be identified by their characteristicly arrow shaped head, however, there are some species of non venomous snakes that have somewhat arrow shaped heads, such as the brown water snake. 
Remember that all snakes that have not been positively identified should be regarded as poisonous before handling.