In Part I of this article we looked at the general information on a plat of survey.  Now lets look a the drawing itself.  We find that the lines representing property lines are drawn with bearings and distances indicated with each line drawn.  These are usually drawn and then each line is annotated with bearing and distance.  An example of bearing and distance might be N 66° 0′ 0″ E  1245.01′.  This can be read more descriptively as North 66 degrees 0 minutes and 0 seconds for a distance of 1245.01 feet.   The distance is easy to understand but the direction might use some more explanation.
You can probably remember your high school teacher expounding on angles in terms of degrees.   You may recall them articulating that a circle is composed of 360 degrees.  You may have had a boy scout compass on which direction was expressed in an azimuth of anywhere from 0 to 360 degrees.  While most of us are familiar with degrees, many are not familiar with bearings.  Look at the figure below.  You will see three directions displayed as degrees in the familiar 360 degree format.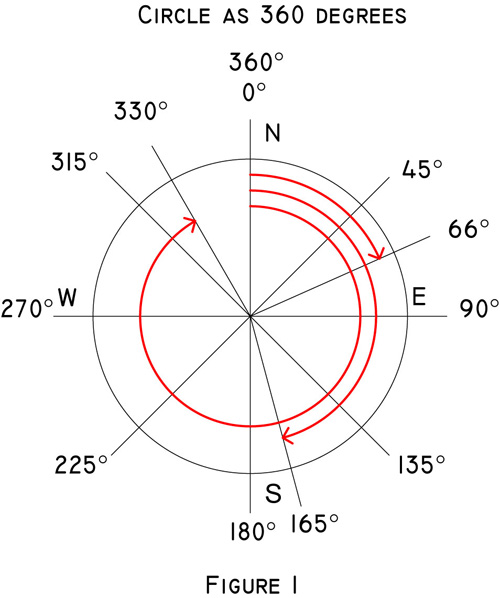 The directions shown are for 66 degrees, 165 degrees, and 330 degrees, all using a 360 degree circle for direction.
Plats of survey rarely use degrees.  The usually use a system of bearings based on deviation from north or deviation from south.  A direction that is expressed as a standard bearing is also based on a 360 degree circle but uses different points of reference.  A bearing of  N 60 degrees east means the direction is 60 degrees to the east of north.   Likewise a bearing of S 15 degrees east means the direction is 15 degrees to the east of due south.  The same three directions as stated in the previous example of 66 degrees, 165 degrees and 330 degrees can be expressed in their bearing equivalents of North  66 degrees East, S 15 degrees east, and North 30 degrees west, as shown in the diagram below.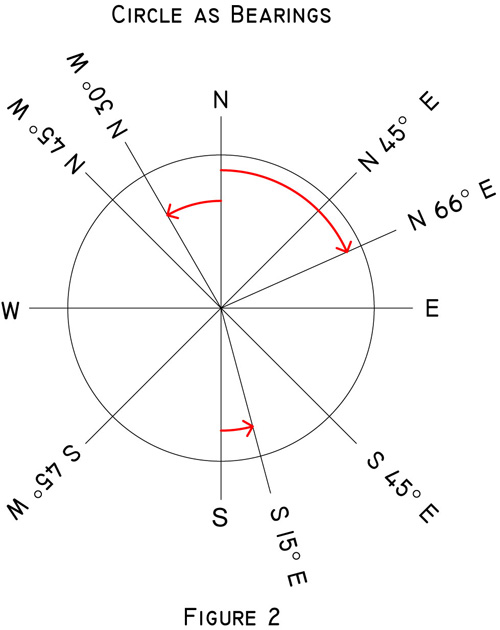 As you can see from the diagram, the same angles we expressed in degrees are now expressed in bearings.  You may be wondering why anyone would use a system of bearings instead of degrees.  This is somewhat anachronistic.  Surveyors of old used this system because it was easier to compute areas and closure ( more on this subject later ) using the bearings rather than degrees.  While almost all calculations done today are done with computer programs, we are left with the customs of old.
In looking at plats you rarely find the bearings expressed only in degrees.  Usually you will find the bearing expressed as degrees, minutes, and seconds.  Minutes and seconds are divisions of a degree with one degree equalling 60 minutes and one minute equalling 60 seconds.  This derives from early nautical derivations and again is somewhat anachronistic.  Bearings will always begin with either S or N, followed by the degrees minutes and seconds, followed by E or W.
Now lets put it together.  Below is a representation of a property with 5 points, each seperated by a distance and a direction given in bearings.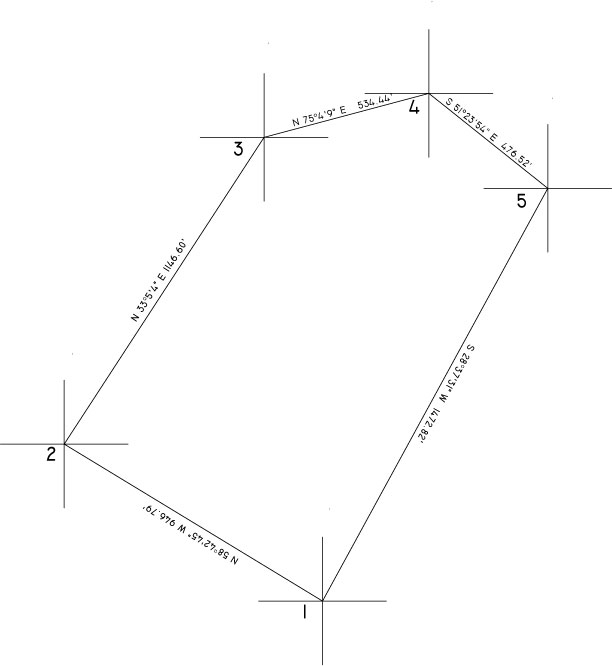 Think of each crosshair as a relative direction guide with North being towards the top of each crosshair.  Like most plats the "calls" are clockwise.  "Calls" are the stated direction and distances on the plat.  That is to say that the direction of travel and distance from one point to the other and back to the beginning is in a clockwise direction.  The text is also oriented in the direction of travel.  Plats do not have to follow this convention, but most do.  It is easy to see if this is correct by looking at the drawing.  The direction of travel from point 1 to point 2 is Northwest and this coincides with the call since the first and last letters of the direction are N and W respectively.
As a note of interest, if you encounter a call that is in the wrong direction, the direction of travel can be easily reversed by simply exchanging both directions on the call.  For example on the plat above the direction from point 1 to point 2 is N58°42'45″W.  If you wanted the direction from point 2 to point 1 you just reverse the directions, or in this case to S58°42'45″E.  Remember to change both directions.
This concludes Part II of our quick guide to plats of survey.  Stay tuned for the final part of this blog which will explain errors of closure, calculation of acreage, curves, and special considerations.